Keven Prather: From altruistic U.S. Coast Guard to Financial Planner
Skylight
September 1, 2015
With the USO of Northern Ohio Golf Outing fast approaching, we caught up with the last of our veterans, Keven Prather of Skylight, to chat about his experience in the military, his transition to a successful financial planner and what the USO means to him.
Keven, tell us a little about your time in the U.S. Coast Guard and what it means to you to have been in the military?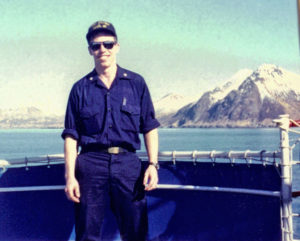 Military service runs as a deep tradition in my family as they have served in every conflict of the U.S. since the American Revolution.  My grandfather, Ross Prather, having his birth certificate forged by my Great Grandmother, entered the U.S. Calvary/Army aged 15 and served in the Army Air Corp's missions in Europe during WWII.  He was later joined by his two brothers, Vaughn and Norvan, who joined with Marines/Army at 17 and 18 respectively.  So naturally, as a young adult, I had a real interest in the military and had explored being accepted at the U.S. Coast Guard Academy.  However, I chose to attend the University of Idaho in Moscow, Idaho. I graduated with a Bachelor of Science degree in Fisheries Resources and worked for several organizations like the U.S. Forest Service, the U.S. Army Corp Engineers, and the U.S. Fish & Wildlife Service. When my job was cut I then followed in the footsteps of my descendants and enlisted in the U.S. Coast Guard. That was back in 1986 and during my five and a half years of service I was stationed all over the country, in remote places like Alaska, and I engaged in a wide range of roles such as law enforcement (dealing with immigration and drug interdiction), worked on the Exxon Valdez oil spill and search and rescue missions in dangerous environments.  I rose quickly up the ranks and reached Boatswain Mate 2nd Class Petty Officer leading up to 32 men.  Also during my time there I rekindled an old college friendship with Cathy who I went on to marry.
I'm very proud of my achievements in the U.S. Coast Guard but what stays with me most is just how fulfilling it is to be there for someone and help them.  Often we were there for people on the very worst day of their life when they were terrified and on their own.
Can you share with us your key highlights?
There's so many but one that has had a huge impact on me was the rescue of a Japanese fishing vessel, Fukushin Maru No. 8 and its 34 crew.  It was a truly harrowing experience as we were tasked with rescuing the vessel whose trawling gear fowled the ships screws, in brutal conditions – horrific storms, seas at 30-feet, snow, pitch dark and bitter cold.  After three failed attempts getting a towing line over, we really thought everyone was going to die as both vessels were in danger of going aground.  Conditions were getting too dangerous and we knew we had only one chance left.  In our final attempt, fighting huge waves and narrowly escaping a fatal collision, we managed to get the ship undertow and to safety.  I received a Coast Guard Letter of Commendation Ribbon (award) for this rescue mission.  It really taught me the power of teamwork and how I could do things I didn't think I was capable of.  To be part of an effort which saved 34 lives is pretty powerful!
How did you make the move from the Coast Guards to Skylight Financial Group?
After separating from the U.S. Coast Guard, I got involved and helped grow Cathy's family business back in Ohio.  When that ran its course I looked to change my career.  I happened to meet someone who suggested the financial services industry which seemed a good fit given my skills and experience with running a business.   So I launched my career as a financial planner and have been fortunate to benefit from really good mentors over the years who have provided me with what I believe is the best training – the "school of doing".  I joined Skylight in its infancy back in 2003 as I liked the firm's strong focus on integrated financial planning and I actually sold its first financial plan!
In what ways do you think that your time in the U.S. Coast Guard has helped you in your career as a financial planner?
One of the most important skills that I developed in the military is the ability to see what needs to be done, analyze the situation, think out of the box and then take action.  This is essential when working with clients.  You need to ask a lot of questions, tease out the truth, earn a client's trust and get to the bottom of what their objectives really are.  This way you can be an effective advisor and really help people in whatever situation they find themselves.
Also much like in the U.S. Coast Guard, you have to put others ahead of yourself.  Your clients need to know that you care and will always put their interests first.
Do you have any advice for a veteran considering a career in financial planning?
It does take a certain resilience to be successful in this career and it takes time to build your practice.  Just like the military, you have to be ready to face challenges, work through problems and adapt to change.  I definitely think time spent in military service prepares you well for life as a financial planner.
---
Keven Prather is a financial planner in Skylight's Cleveland Office. He specializes in serving the complex needs of business owners and high net worth clients through financial planning and is a Certified Family Business Specialist (CFBS).
Keven Prather is a registered representative of and offers securities, investment advisory and financial planning services through MML Investors Services, LLC. Member SIPC. 2012 W. 25th Street, Suite 900, Cleveland OH 44113. 216-621-5680.