Skylight Meets Street Art: Teaming up with Graffiti HeArt
Jack Coakley
January 18, 2019
The Skylight Penthouse at our Cleveland Headquarters is starting off the year with a new look. The walls have been adorned with the vibrant and eclectic creations of two local artists, thanks to the help of Graffiti HeArt and the event we hosted earlier this month. Graffiti HeArt is a Cleveland based non-profit on a mission to paint street art in a more positive light, with passion for creators and the community at its core.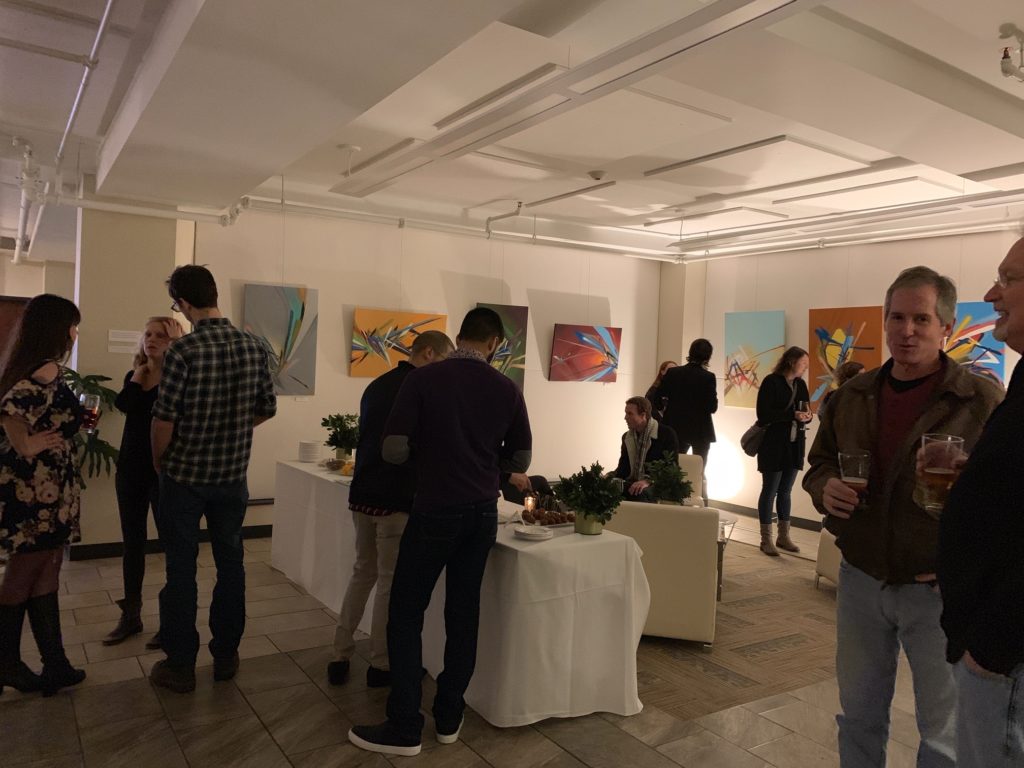 Graffiti HeArt was established in 2013 by its founder and current president, Stamy Paul. Impassioned by the street art and graffiti she has seen around the world, Stamy wanted to create an initiative that celebrates the art form and benefits the Cleveland community. Over the years, Stamy has teamed up with some of the best and brightest local artists in the area, giving these creators the opportunity to make breathtaking murals and other commissioned work.
The Skylight Penthouse is now proudly showcasing the work of two fantastic local talents—Canton-based Kat Francis and Cleveland native Bob Peck. Kat is a contemporary mixed media artist and her collection titled "Heavy Liquid" is a thought provoking collage of personal experiences and urban sceneries. Bob is a well-known graffiti artist in the area, whose refreshing take on abstract expressionism displays vibrant streaks of color that seem to jump right out of a comic book.
Graffiti HeArt also supports urban development projects and art education scholarships, raising more than $70,000 towards programs at the Cleveland Institute of Art. "Stamy is just an amazing person to work with in the art community. She has found a way to support aspiring and accomplished artists in a way that cuts through the stigma of street art" says Kat Francis. Bob Peck was approached by Stamy about 5 years ago as he began to work more in the public eye. "Personally, I didn't think I wanted to be a part of organizations anymore, but once I talked to Stamy and understood her vision I was sold—and to this day we are very close friends!" Both Kat and Bob continue to be extremely grateful for the opportunities Graffiti HeArt provides.
"We are honored to empower local artists of the Cleveland area", said Skylight Managing Partner Mike Connole. "By opening up the Skylight penthouse to Graffiti HeArt, we provide these talented individuals a space to promote their craft and build their public presence. We will continue to seek out opportunities that support home-grown talent and community-focused organizations."
You can check out some of Kat and Bob's artwork below. For more information, you can check out the Graffiti HeArt website here.