Skylight Financial Advisor Joins Local Program to Make Services More Accessible
Amie Fox
June 24, 2022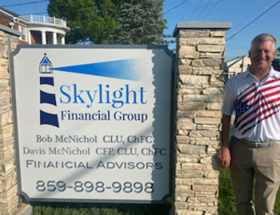 As a participating business, Skylight Financial Group Financial Advisor Bob McNichol was recently featured in an article in a local publication promoting the growth of a local business area in northern Kentucky. Associated with the Cincinnati office, local transportation challenges motivated Bob to establish his office just across the river in Kentucky, specifically the town of Erlanger.
The CAP program (full name: Commonwealth Area Professional District Capital Improvement Incentive and Grant program) included an Erlanger City Council-approved zone change that will encourage new or expanding businesses to convert existing residential structures into commercial office space or develop a new commercial building.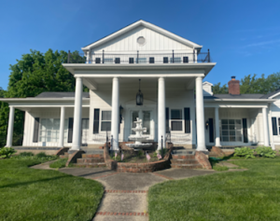 Located at 441 Commonwealth Ave, a primary thoroughfare in the city, Bob said of the location, "Commonwealth Avenue has so much to offer a business. It is centrally located, very convenient and I can envision it becoming the flagship street in Erlanger, a corridor lined with offices for lawyers, title companies, financial planning firms and other professional services."
Now with their new Skylight sign in place, Bob and Davis McNichol are excited to welcome all their existing clients and new ones to their convenient majestic white house office on Commonwealth Ave.
View the full article for more on Bob and Erlanger's CAP business incentive program:
[link to https://urldefense.proofpoint.com/v2/url?u=https-3A__www.lanereport.com_155909_2022_05_erlanger-2Dlaunches-2Dincentive-2Dprogram-2Dto-2Dchange-2Dcommonwealth-2Dave-2Dto-2Doffice-2Dbusiness-2Ddistrict_&d=DwIFAg&c=BX7Y4KpGhcDnIsrgHKqkbfoiiDvjhxwuYUpcrPD7xrE&r=1vC5BL_gGO4bsUx7id1__zFpkWT7etXfdpou72ugqXw&m=9z7lr8oUsb8YkqLaTv6CZL20OXV96a8hlIoTt82spVJl80QnsOyLWNfG3OZTLiOW&s=qLn1rBRuZPe3BwB8SUJH4AiXeze4moljc7vIOEbDgiA&e=]
Robert F. McNichol and Davis M. McNichol are registered representatives of and offer securities and investment advisory services through MML Investors Services, LLC. Member SIPC OSJ: 3825 Edwards Road, Suite 210, Cincinnati, OH 45209. 513.579.8555. CRN202506-2537279