Skylight Recognizes Top Performers at 2018 Awards Banquet
Skylight
January 23, 2019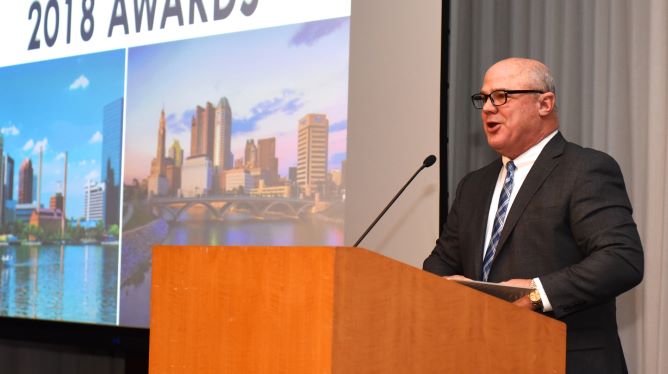 Last Saturday, Skylight Financial Group wrapped up a successful 2018 with its Annual Awards Banquet. Over 250 professionals join us at the InterContential Hotel in Cleveland to celebrate our top performers of 2018 with laughs, libations, and well-deserved accolades.
The evening was jam-packed with exciting events, starting with the debuting of Skylight's "house band"—consisting of Director of Technology Joe Paulsey on guitar, Design Center Coordinator Steve Niple on drums, and Financial Planner Katy Bryan on lead vocals. "It was truly a fantastic way to kick off the evening, they really knew how to put on a show!" said Financial Planner Brent Affolter.
In addition to the performance, the audience was also treated to a stirring tribute to Skylight's own Dan Brennan. Dan has taken a step towards a full retirement, departing from his role as Chief Operating Officer. After a heartfelt re-telling of Dan's career, he took the stage with his wife Suzi to thank the Skylight family for everything they have done—an address riddled with Dan's famous sense of humor. When the awards ceremony came to a close, the Skylight family was treated to a night of games, prizes, and delicious desserts. "The banquet was a blast", said Financial Planner Bernie Garrah, "there is a lot of camaraderie among the Skylight team, which has really shaped the passionate culture of the organization."
Highlighted below are the 2018 winners:
Product Leaders:
Associate of the Year
The 2018 Associate of the Year award went to Toledo's Shane Edwards. Shane is approaching his third year with Skylight and continues to display extraordinary work ethic and passion for serving his clients. In a statement, Shane had this to say:
"I am extremely honored to be receiving this award, which is truly a testament to the efforts of my entire team. The success we saw in 2018 was deeply rooted in our drive to develop lasting relationships with clients and their families, I look forward to seeing what we can accomplish in 2019!"
Rising Leader Awards
Cleveland's Brent Affolter and Jeb Stephen were the two recipients of Skylight's Rising Leader of the Year Award. Brent and Jeb have only been with the firm for the past two years, but both have shown tireless efforts in being there for clients, motivating their colleagues to do the same.
"To be recognized in any capacity by the leadership of this great firm is extremely humbling and motivating" said Brent. "When Jeb and I first started here at Skylight, we both knew the organization was special. Never in my career have I seen such a welcoming and supportive culture at a firm. I am very proud to be a part of the Skylight family and I look forward to what the future holds for all of us."
Jeb Stephen, who transition from career management to financial planning, had this to say: "Looking back at the last 16 years I spent in the Financial Services Industry, I could not be happier with my choice to come to Skylight. I am honored to work alongside an incredible team that continues to put our clients and community before everything else."
Check out some of the photos from the evening below or click here for the full album on our Facebook page.