The Story of Doug Rechtine
Skylight
August 1, 2019

Lifelong Toledo resident Douglas Rechtine has been in the financial services industry for more than 3 decades—but his journey to career success was no small feat. His professional prowess and personal story go hand and hand with his passion for helping others and a desire to better himself. We sat down to hear Doug's story straight from the horse's mouth. Check it out below.
Doug was born the youngest of three children in the city of Toledo before moving to Holland, Ohio in his teenage years. After his parents divorced, Doug lived mostly with his mother throughout his childhood. "We didn't necessarily grow up in a perfect family environment" said Doug, "but I was very fortunate to have incredible teachers to look up to as mentors." Of the teachers that Doug looked up to, his 7th grade teacher and little league baseball coach Jim Burnor Jr. stands out the most. "After the divorce, Mr. Burnor took me under his wing. He really did everything he could to put me on the right path, teaching me about hard work, discipline, and the importance of a proper education."
Nearing the end of his time at Springfield High School several years later, Doug found himself pondering the age-old question—what am I going to do with my life? "I originally thought I would follow in Mr. Burnor's footsteps and become a teacher and coach. I attended Bowling Green State University and played on the baseball team there." Over time, Doug's enthusiasm for becoming a teacher started to falter and his baseball career was cut short by an arm injury. Staring graduation in the face, he wasn't sure what to do. "I ended up taking a couple of positions in sales and marketing over the course of the next four or five years. These positions weren't terrible, but I didn't really feel like I found my niche."
Doug's decision to become a financial advisor first dawned on him during a golf trip. Doug's buddy—the same one he bought his first ever life insurance policy from—came into town to play 18 holes with the usual crew. In between strokes, Doug was explaining his frustrations about his current job, sound boarding the group for an escape route. His friend started explaining the work he was doing as an annuity wholesaler and thought Doug would be a perfect fit for the financial services industry. "We ended up talking for a few hours and he said he would make some calls for me. Shortly after our chat, I had gotten phone calls from five different firms." When asked what was it that drew him, Doug said, "I always had an entrepreneurial streak in me and wanted to have the freedom and flexibility to determine my own fate. I felt destined for that kind of work but had no idea what the path to get there looked like. When I understood what this business was all about—putting in as much as I want to see come out of it—I was convinced that this was the move for me."
In January of 1987, Doug started working at the Toledo branch of New England Financial. Unlike most, the hardships that usually overwhelmed new comers seemed to be non-existent. Doug went on to make conference the first, second, and third year at New England Financial, and went on to be a conference qualifier with New England Financial/MetLife every year of his career. Doug attributes his early success to a handful of factors: rigorous training exercises, a love for connecting with people, and a fearless attitude towards hard work. There was one more factor in Doug's arsenal that is impossible to replicate—he possessed local name recognition as a professional bowler. Growing up, Doug spent countless hours with his father in bowling alleys, learning how to properly knock down pins. "Back in the 70's, 80's and 90's Toledo was considered the bowling capital of the country, and I competed in professional and amateur tournaments. I had a real knack for the game." In fact, 17 years ago Doug was inducted into the Toledo Bowling Hall of Fame for finishing his career with 28 perfect 300 games. With his early success as the framework, Doug built a promising career as a financial advisor and joined the Skylight team in 2015.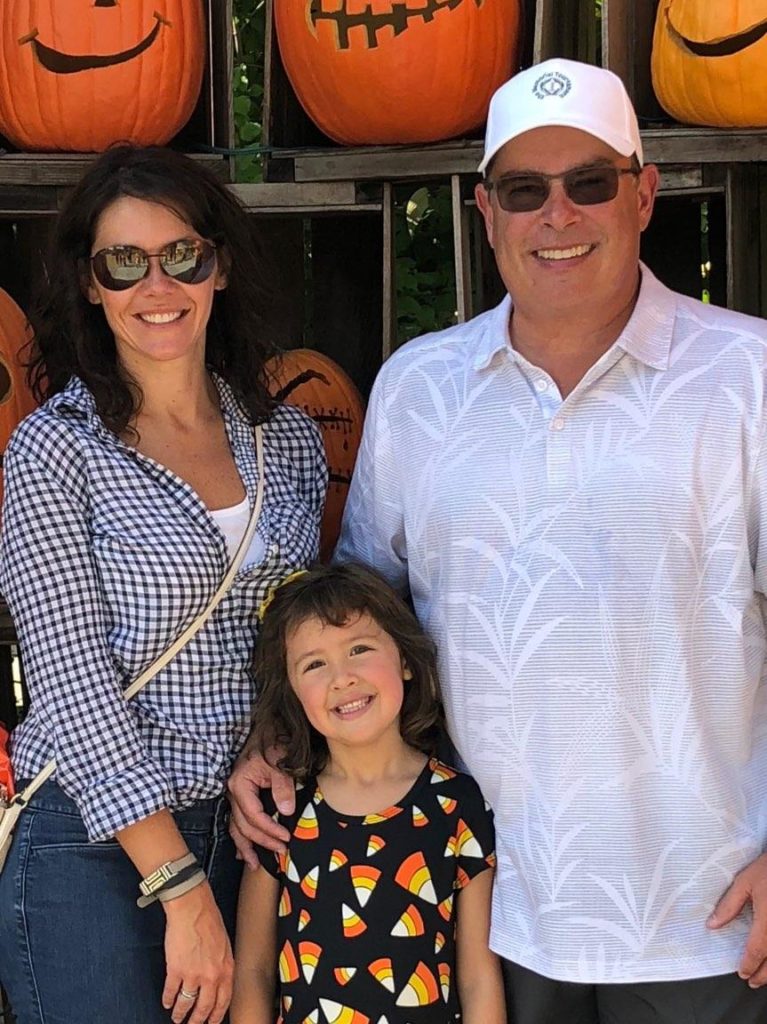 Doug's continued efforts in the industry are rooted in a desire to support others in his community. For the past several years, Doug has aided the same education system he credits his positive upbringing to, serving as a board member for the Springfield Schools Foundation. The organization leads fundraising efforts to bring resources and technology to the classrooms of Springfield Schools in Holland, Ohio. "Without the support of my wife Angie over the years, my career would not be nearly as successful. She is a counselor at Springfield Schools and our 7-year-old daughter Ava attends Springfield Schools, but the main reason I remain active with this organization is to give back to my alma mater. Springfield High School put me on the right course for success and shaped me into who I am today."
When fresh-faced financial representatives ask Doug for advice, he replies with two main tidbits. The first one is, "Perfect your story and tell it to as many people as possible. People only want to work with those they see value in and if you cannot convey your value—which is based on industry knowledge and personal connection—they will cast you aside." Doug went on to say, "This industry is tough, and a lot of people face hardships and fail, but I have never seen someone fail in this industry because they told too many people their story." The second tidbit is, "as soon as it makes sense for your practice, surround yourself with a fantastic support team. I say this all the time—and my wife always echoes it—I would not be Doug Rechtine without the help of my assistant, Kellie Stewart. Her daily efforts allow me to devote more time to my clients and I am forever grateful for all the work she has done. The sooner you bring on a staff member to assist you, the better off you are going to be."
Outside the office, Doug enjoys spending time with his wife and daughter, golfing with his friends, and traveling across the country. "We have a second home in Naples, Florida so we travel there as often as we can. We also love northern Michigan, Hawaii, and Las Vegas!"
Thanks for taking the time to speak with us Doug! You can reach Doug Rechtine at his bio page here.