Heerdegen Triumphs Over Alzheimer's at Inaugural Rowing to Remember Event
Skylight
July 29, 2019
To say that it has been a challenging year for Financial Planner Chris Heerdegen would be an understatement. For Chris, 2019 marks the first year without his father, Richard Heerdegen. Richard passed away on October 31st, 2018 after a long, debilitating battle with Alzheimer's. Ever since he passed away Chris has been on a mission to honor his late father and give back to those who support families that are also facing this terrible disease.
Looking for a place to start his mission, Chris began to connect with members of the Alzheimer's Association of Northwest Ohio. "My father battled this disease for 5 years, and I had no clue about the amazing services this organization offered." It was through this organization that Chris discovered the Longest Day campaign, a nationwide fundraising initiative to benefit the Alzheimer's Association and those who are affected by the illness. After deciding to participate in mid-December, Chris knew he had 7 months to develop the plan for his fundraiser.
An Idea on the Rowing Machine
Being a fitness aficionado, Chris pondered his involvement with the Longest Day while on a rowing machine, his favorite way to exercise. "I guess you could say I had an epiphany, because in that moment I thought, 'heck, maybe I'll row on the longest day—from sun up to sun down.'" Friends and family greeted the idea with wide eyes, but Chris cemented the idea in his head once he gave the event a name, Rowing to Remember.

"The first thing I had to figure out was a goal to set and a way to tie that goal back to my Dad" said Chris. Richard was 72 when he passed away and Chris couldn't shake this number out of his mind. He began to calculate if he could row 7,200 meters every hour for the 16-hour day. The number staring back at him was colossal—he was looking at rowing a whopping 115,200 meters in a day. "This is where some divine intervention came into play" chuckled Chris. "I knew I would have to simplify that number since we're averse to the metric system in the US, so I calculated how many miles were in 115,200 meters—turns out it is exactly 72." Chris remembers "looking up to the heavens and looking back down at the paper. Then I said 'Well, this is it. Time to get to work'"
After getting his wife and brothers on board with the idea and launching the official fundraising campaign in the spring, donations and participants started to flow in. Chris began to strategize for the row of his life. "I have rowed marathons before, which alone is 42,195 meters, but this event was going to be 2.75 marathons in one day." Alongside his brothers and other workout partners, Chris started to figure out the right pace and rest time to tackle this multi-marathon.
Fitness Meets Fundraising
After months of training and fundraising, the longest day of the year finally arrived. The event was hosted at Chris' gym, the Fitness Shack in Sylvania, Ohio and kicked off with the rising of the sun at 6:00 am. "The facility had 8 rowing machines at their disposal, and for the entirety of the 16-hour day there was only one hour where I was rowing alone." Friends, family, and members of the community hopped on rowing machines throughout the day. Some participants did 20-minute rows, others doing a few hours to show their support for Chris and the longest day cause. "A group of ladies who attend the same gym saw what I was doing and immediately joined me with their goal of rowing a full marathon that same day! They were absolute rock stars and it was people like that that kept me motivated."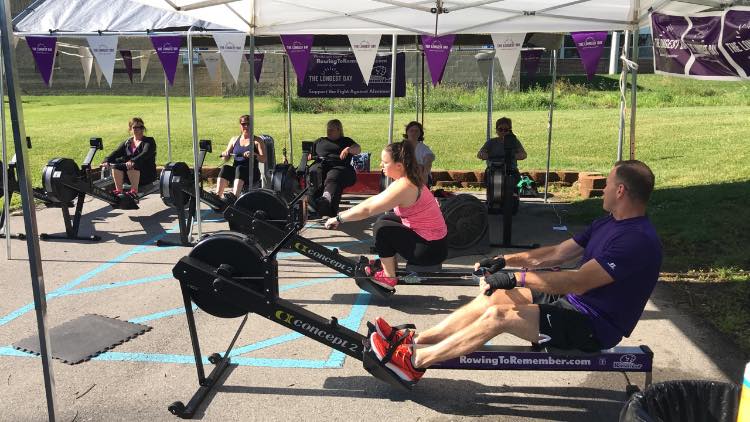 The inaugural Rowing to Remember event saw close to 100 rowers that day, and Chris claimed that the love and support in the room made the early hours of the event fly by. "I won't lie to you though" he said with a change of tone, "the last six hours were an absolute grind." On his break periods, Chris would film himself on Facebook live, encouraging people to come out and support him during this final stretch. Thanks to his friends that showed up with signs and well wishes, Chris finally arrived at the final hour. This is when everything started to get emotional for Chris, since he reserved this last hour for what he called "a family row." His wife, brothers, and two best friends from childhood all joined in for this last stretch. With the memory of his father at the top of his mind and the love of his family filling the room, Chris finished the last row of the day with the same 7200 meter time as he finished his first one.
A Beacon of Hope
Rowing to Remember ended up raising just shy of $25,000 for the Alzheimer's Association of Northwest Ohio, but for Chris the most important aspect of this event was being a beacon of hope for families facing this illness.
"There is so much that we do not know about this disease from a science perspective, but one thing you have to understand is that you are not alone. I would encourage people of all ages to reach out to their local Alzheimer's chapter. The services and support they offer everyone that comes through the door is simply amazing. If you know somebody who's providing care for a loved one with Alzheimer's, reach out and offer help any way you can—I guarantee you they need a respite. Finally, if your family has a history with this illness, put your personal health at the forefront. Proper exercise and nutrition have been proven to fight off some of the early markers for Alzheimer's, so commit to healthy practices for yourself and your family. It is only when we come together as a community that we can overcome a disease like this, so I cannot thank those in my community enough for their love and participation during this event. I look forward to seeing you all at next year's Rowing to Remember Event!"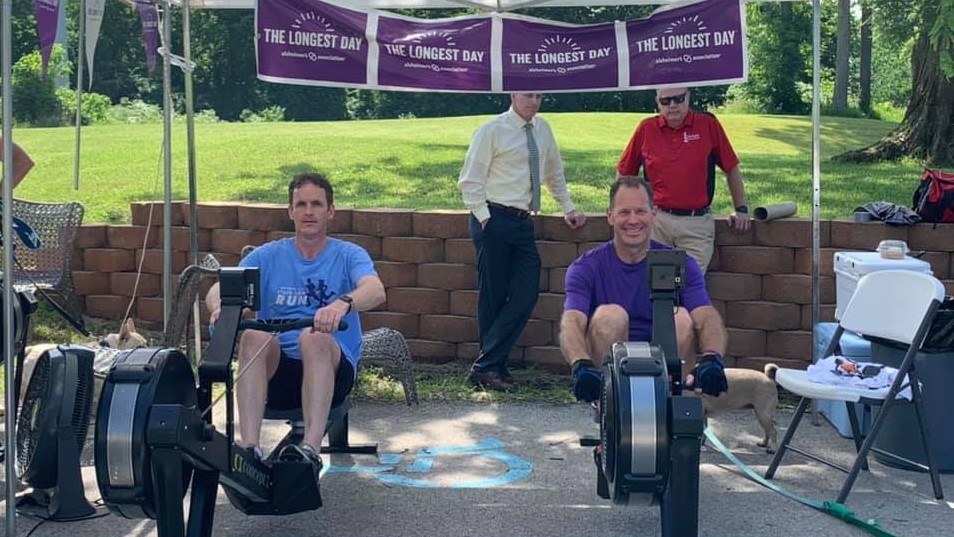 Thank you for sharing your story with us, Chris! Check out the Rowing to Remember Facebook page here. For more information on how you can get involved with the Alzheimer's Association, head over to their website.