A Hole in One Opportunity: Skylight Sponsors the 2021 Solheim Cup
Emma Fox
September 23, 2021
Established in 1990, the Solheim Cup is a biannual golf tournament for professional female golfers. From August 31 to September 6 this year, Inverness Club of Toledo, OH had the great privilege of hosting this prestigious event that saw players of the Ladies Professional Golf Association (LPGA) and the Ladies European Tour (LET) face off to win. Skylight Financial Group had the opportunity to sponsor this event alongside affiliate MassMutual, and many of our financial professionals and their clients had a blast cheering on Team USA!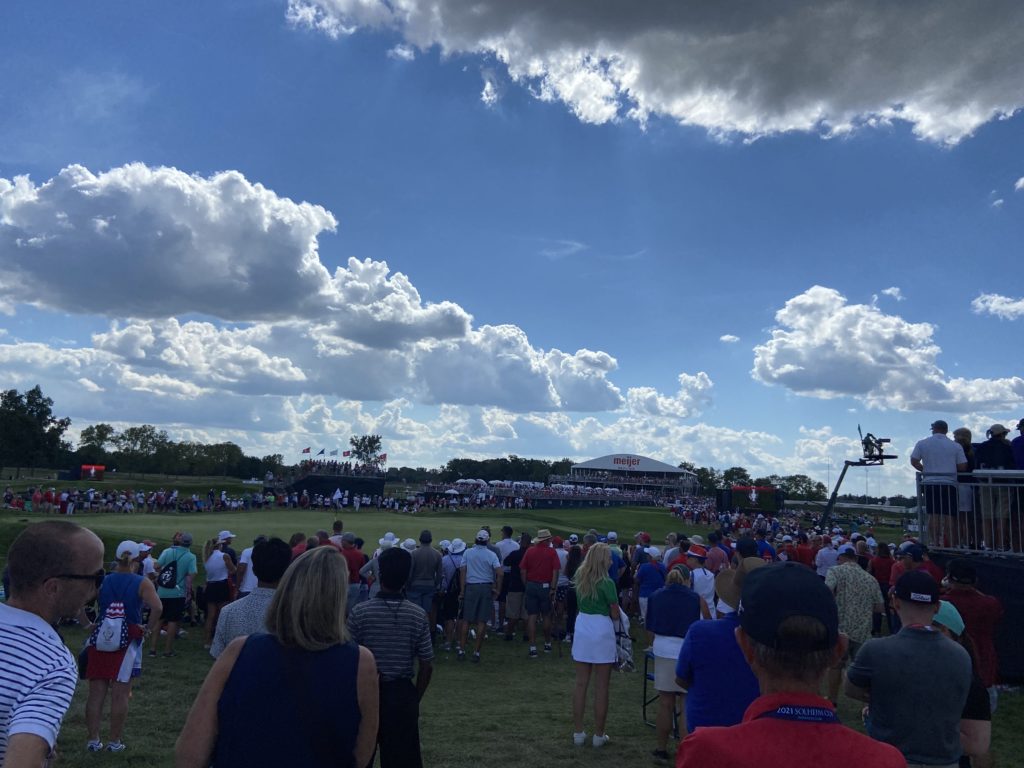 With the expectation of over 100,000 people coming to this event in the city of Toledo, restaurants hired new staff to compensate for the influx of people, and the power grid surrounding the course had been undergoing upgrades and inspections to make sure everything ran flawlessly. "The event was run very well! You could tell a lot of planning, preparation, and commitment from the entire community went into making this event a huge success," said Skylight Partner and Financial Planner Chris Heerdegen.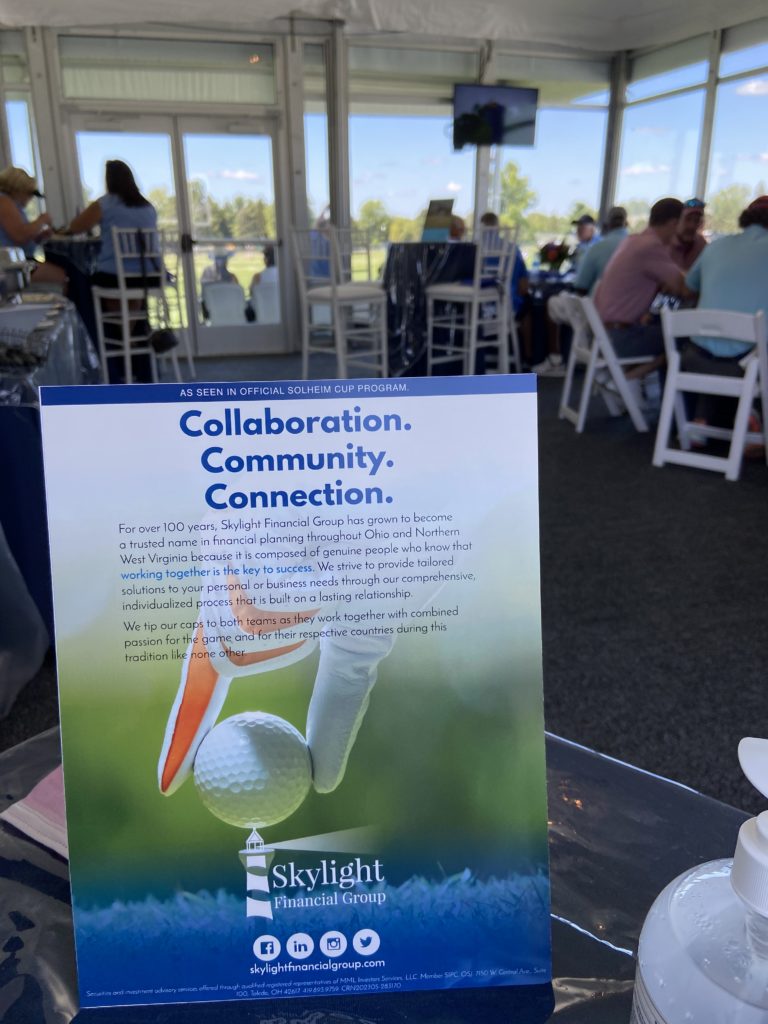 Beginning the last day of August and spanning until Labor Day, the Solheim Cup had beautiful weather that drew out huge crowds of people eager to watch the professionals play, including a number of Skylight staff, financial professionals, and their clients. Due to Skylight's sponsorship status at the tournament, tickets available ranged in access to different benefits at the tournament; general admission grounds-only passes, Meijer Pavilion passes, and the highest level of ticket which gave access to the Skylight Hospitality Suite.
Skylight also had tickets available to attend Solheim after sundown – a street fair filled with restaurants, shops, and businesses local to Toledo, the opening ceremony, which included a concert featuring Gwen Stefani, the closing ceremony, and a special golf outing at Inverness Club the day after the tournament finished for sponsors of the event.
The Skylight hospitality suite was situated in Inkster Village right on the 14th hole of the course. It featured delicious catered food for breakfast, lunch, and afternoon snacks, drinks, comfortable seating to watch outside, and televisions inside to watch the action happening on the other holes. The Skylight hospitality suite also had a giveaway gift each day of the event, some items included were Solheim Cup and MassMutual branded hats and bags that everyone enjoyed taking home.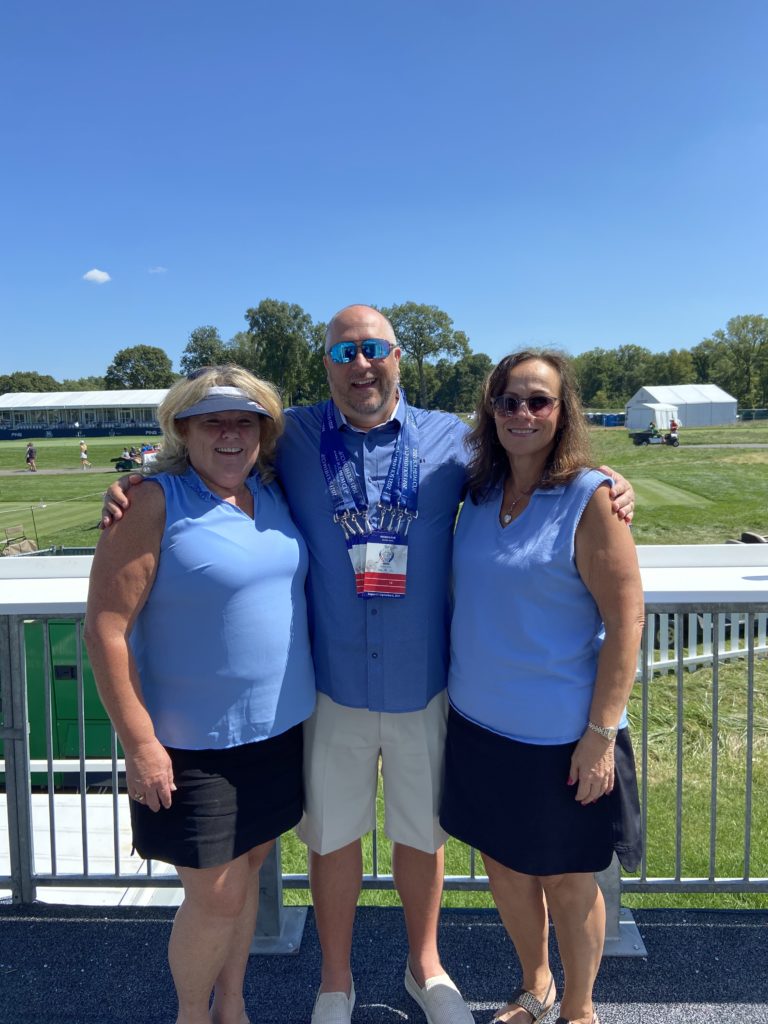 "As a member of Inverness, it was amazing to share my club with so many of my clients. All of them instantly sent me messages on how impressed they were with the course, the Skylight Hospitality Suite setup, and the event's energy. Well done, Inverness, well done Toledo and well done Skylight for sponsoring this perhaps once in a lifetime event," said Skylight Partner and Financial Planner Mike Buganski.
The Solheim Cup is an incredibly distinguished event that Skylight is so fortunate to have participated in and sponsor. Though Team Europe ended up taking home first place, we are so proud of our American golfers who played with great skill and sportsmanship!
Check out our Solheim Cup photo album on Facebook here.
Local firms are sales offices of Massachusetts Mutual Life Insurance Company (MassMutual), Springfield, MA 01111-0001 and are not subsidiaries of MassMutual or its affiliated companies. Securities and investment advisory services offered through qualified registered representatives of MML Investors Services, LLC. Member SIPC (www.sipc.org). OSJ: 2012 W. 25th Street, Suite 900, Cleveland, OH 44113. 216.621.5680. CRN202409-934968