Cooper Honored as Extraordinary Elon Alumnus
Skylight
December 28, 2018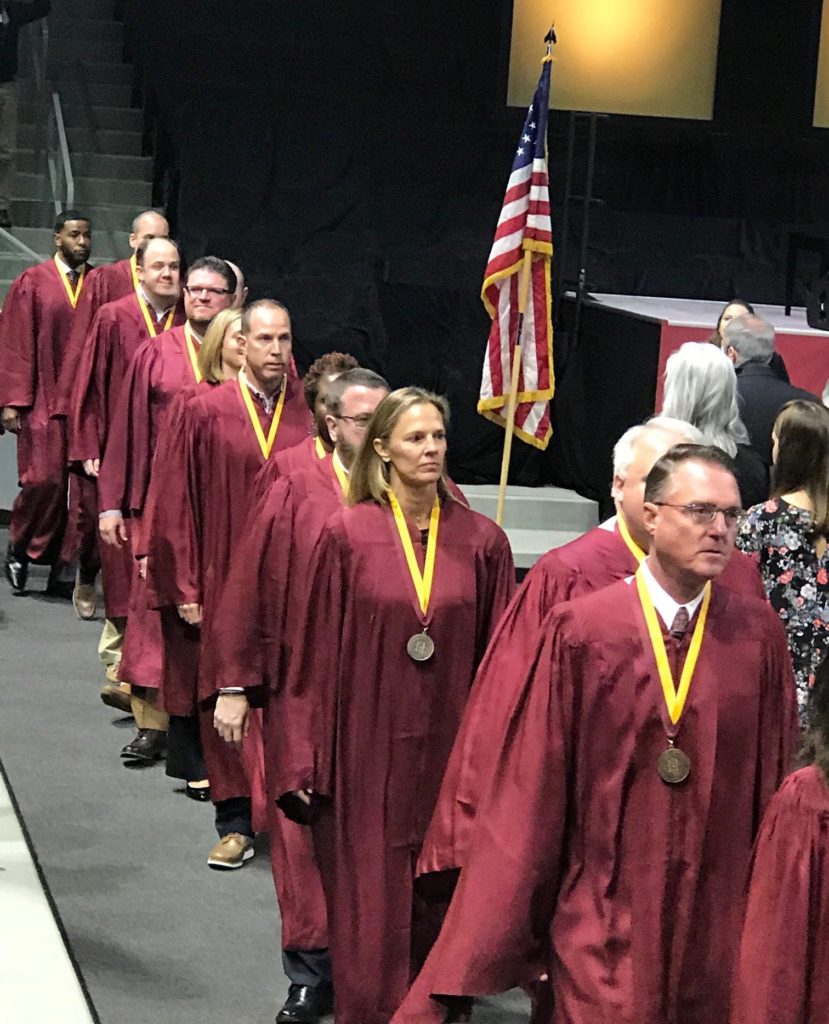 Back in October, Elon University inducted Dr. Connie Ledoux Book as their 9th President. Not only was Skylight's Charles "Coop" Cooper in attendance for this occasion, he also had a unique opportunity in the ceremony. Coop was invited to participate in a celebration of Elon's 32,000 former students—an offer he accepted with delight.
A Heart of Maroon and Gold
To say Coop is a zealous alumnus of Elon University would be an understatement. He graduated from North Carolina's premier liberal arts school back in 2001. Classically trained in opera singing, he graduated Cum Laude with a Bachelor of Fine Arts (BFA), in musical theatre. "Elon is an amazing place that made me who I am today. The school makes you believe you can accomplish anything—then gives you the tools to do it," said Cooper. After graduating Cooper sat on Elon's Alumni Board for 5 years, where he poured energy and resources back into his beloved school, even creating an endowed scholarship in his name.
Dr. Book's induction ceremony would be celebrated with the school's first ever "Long Maroon Line," a grand collection of alumni unlike any other. The institution chose one individual from each graduating class of living alumni to represent the school. Elon reached all the way back to the late 1930's to select these outstanding men and women, and Coop had the privilege of representing the graduating class of 2001. Coop described his initial reaction as "overwhelmed with honor." He went on to say, "My graduating class was made up of 1,600 incredible students and to be chosen for something so momentous was absolutely thrilling."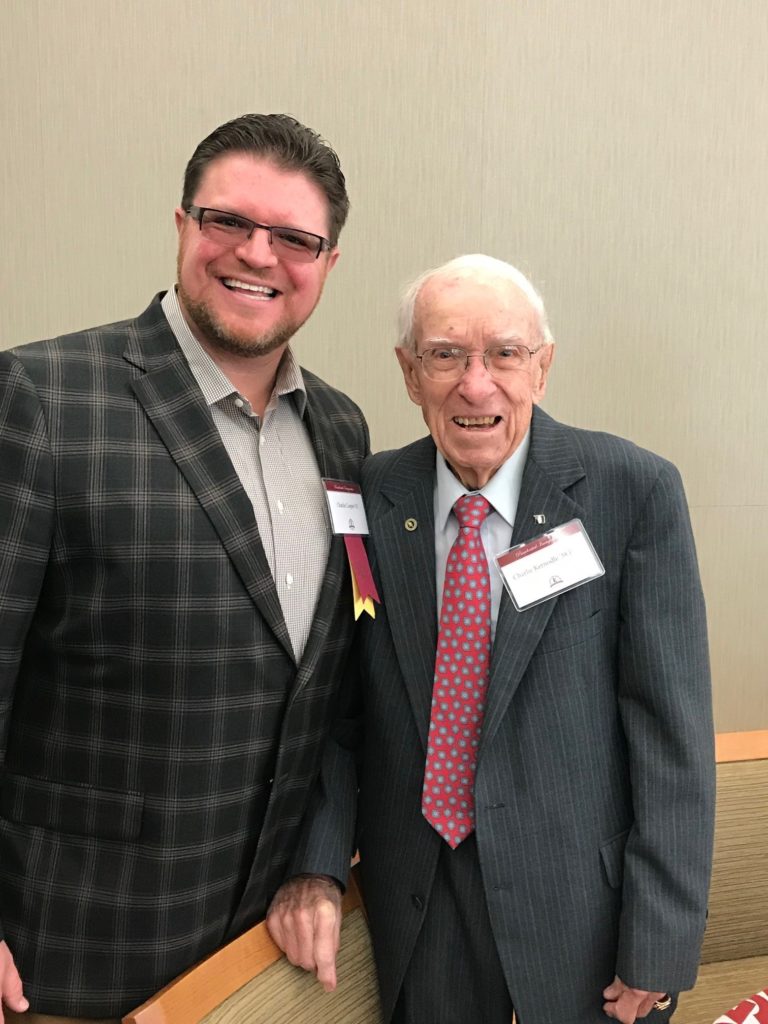 Elon's Past Greets the Future
Adorned in flowing robes, the 80 handpicked representatives traversed Elon's Schar Center to kick off President Book's inaugural address. "I was truly standing side-by-side with one spectacular human being after another," mentioned Cooper. Having the chance to meet with some of these alums had a profound impact on Coop, one of them being Dr. Charlie Kernodle. The 101-year-old Dr. Kernodle is Elon's oldest living alumni. He graduated back in 1938 and shortly after would become a front-line surgeon on the European front in WW2. After the war ended, Charlie came back to the Elon area to open his health practice, which is still operating to this day.
Like many of the attendees, Coop was ecstatic to be back on campus to see the future of school unfold right in front of him. Dr. Connie Book is Elon's first ever female president and according to Coop, "she has a tremendous amount of passion for the school, there's not a doubt in my mind that she is going to do an incredible job." Having this opportunity to meet former and current members of the Elon family filled Cooper with hope. "This school continues to build young men and women into amazing global citizens—I take a lot of pride in sharing their company."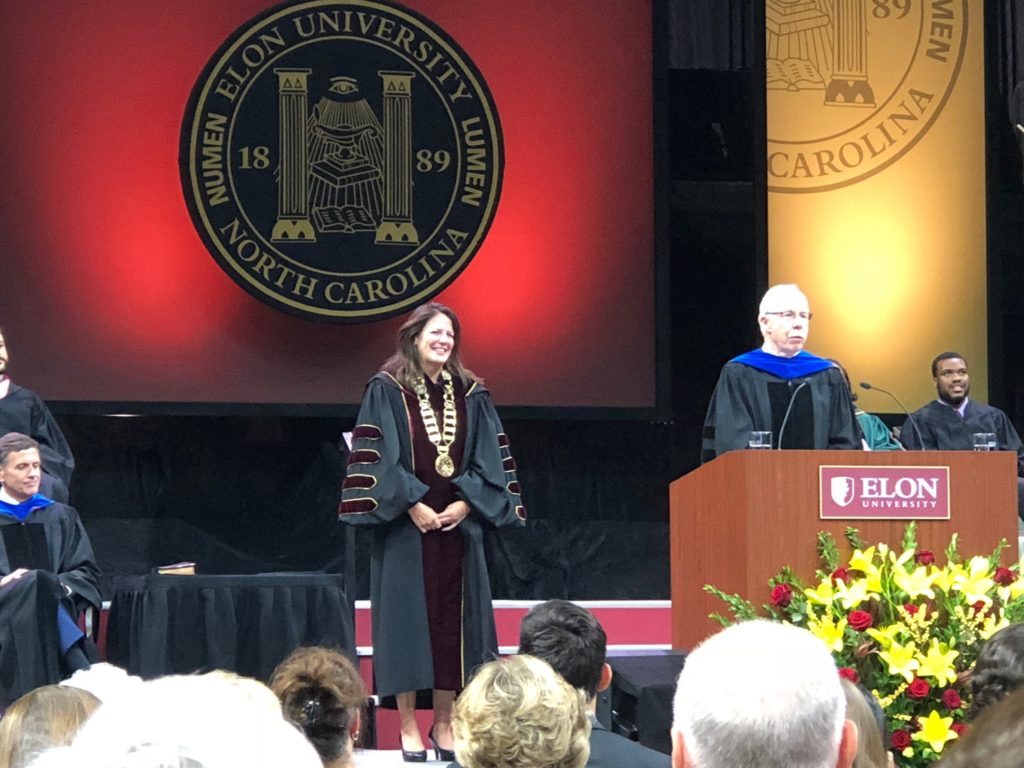 Thanks for sharing, Coop!
Charles "Coop" Cooper is a Financial Planner based out of Cincinnati, Ohio. For more information, please visit his bio page here.
Charles Cooper is a registered representative of and offers securities, investment advisory, and financial planning services through MML Investors Services, LLC. Member SIPC OSJ: 3825 Edwards Road, Suite 210, Cincinnati, OH 45209. 513.579.8555.