Skylight Celebrates 2020 Accomplishments at First Ever Virtual Awards Gala
Skylight
January 27, 2021
Here's the skinny on Skylight's 2021 Awards Gala: the whole team from across Ohio started this year off by celebrating all 2020 accomplishments and top performers in the firm on Friday, January 15th. Although the event had to be adjusted from our typical in-person awards galas to stay COVID-friendly by keeping it virtual on Zoom, all attendees kept it groovy in their homes with a '70s themed party.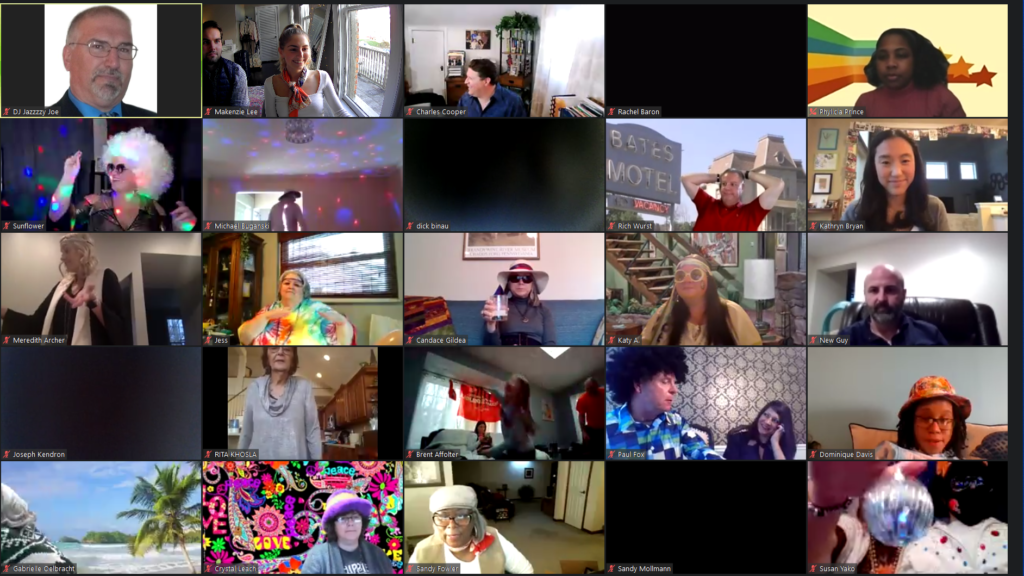 Everyone participated with far-out backgrounds and hip outfits, and friends of Skylight at Penthouse Events CLE made sure spirits were high by sending cocktail kits to everyone's homes. Their talented bartenders gave step-by-step tutorials on how to mix up the provided cocktails, and Director of Technology Joe Paulsey (AKA "DJ Jazzy Joe") brought on the funky tunes that everyone boogied to across their screens throughout the event.
The event was co-hosted by Charles Cooper, Jeff Logan and Mike Buganski, who all made sure to emanate the theme in true '70s fashion. Perhaps most outstanding was Mike Buganski in his pink and zebra-printed velvet suit with a matching hat and platform boots. The gala also featured multiple raffles for attendees, in addition to awards given to the top performers of 2020!
Check out our top performers of 2020 below:
---
New Associate of the Year:
Toledo's Jennifer Erickson was rightfully awarded New Associate of the Year. Jennifer has been with Skylight for just over two and a half years and has clearly shown that hard work and dedication does pay off.
"I thought the virtual awards gala was extremely well thought out and it was a lot of fun to see everyone participating and having a good time, despite not being able to be all together. I think that goes to show the culture at Skylight and I feel very blessed to be a part of such a wonderful group. As far as my award goes, I was completely caught off guard and had no clue that I was going to win anything. I just like to work hard and really enjoy the relationship part of this business, and therefore I admittedly don't really pay attention to those types of things. I am truly honored however to be the New Associate of the Year."
---
Rising Leader:
This year the Rising Leader award was given to Toledo's Shane Edwards. Shane has found ways to rise on top during such a unique year and has also been a great asset to Skylight's ClearPath Advisor Team.
"As hectic of a year 2020 was, Skylight found a way to make this year's awards banquet meaningful and unique. The virtual bartenders were fun and following along to make our drinks at home was a nice way to feel connected to everyone across the state. It's not always easy to stay up to speed on how everyone is doing throughout the year and I thought this was a great way to show off everyone's accomplishments."
---
Team of the Year:
The Skylight Financial Group ClearPath Advisor Team out of Toledo, consisting of SFG associates Chris Heerdegen, David Clarke, Robert Ruff, Bruce DeBoer, Rich Wurst and Shane Edwards, has made a huge impact in Toledo's community, which is just one of many reasons why they were awarded Team of the Year. They are consistently supporting their clients with the appropriate solutions for their financial situations.
Team member Bruce Deboer said, "given the year we have all gone through, I thought the virtual awards gala was very well done and our team really appreciated all the work that went in, and we enjoyed the efforts of the presenters. On behalf of Skylight Financial Group's ClearPath Advisor Team, we appreciate the award and wish everyone a healthy, productive, and safe 2021."
"If everyone at Skylight Financial Group can do this in a year like we just went through, think what we will be able to do in the years to come."
---
The Bronze, Silver, and Gold Associates of the Year:
As for the most prestigious recognitions: The Silver and Gold Associates of the year, huge congratulations to this year's recipients listed below!
Check back here soon to hear from these dedicated individuals on how they felt receiving such high praised awards!
Congratulations to everyone who was recognized! Click here to view the full event photo album.
CRN202301-277625