Totally Tubular! Skylight Celebrates Coming Together with a Righteous '80s Bash
Emma Fox
August 6, 2021
The last year and a half has been filled with various, extraordinary challenges on most people across the globe. With all of the struggles, big changes, and isolation, it may have felt for many as though nothing has stayed consistent throughout the COVID-19 pandemic. At Skylight Financial Group, we are used to seeing our friends and co-workers across the state at least a handful of times throughout a typical year, and now that we are able to get together in-person again, we thought there was no better way to celebrate than with an '80s themed bash for our incredible firm!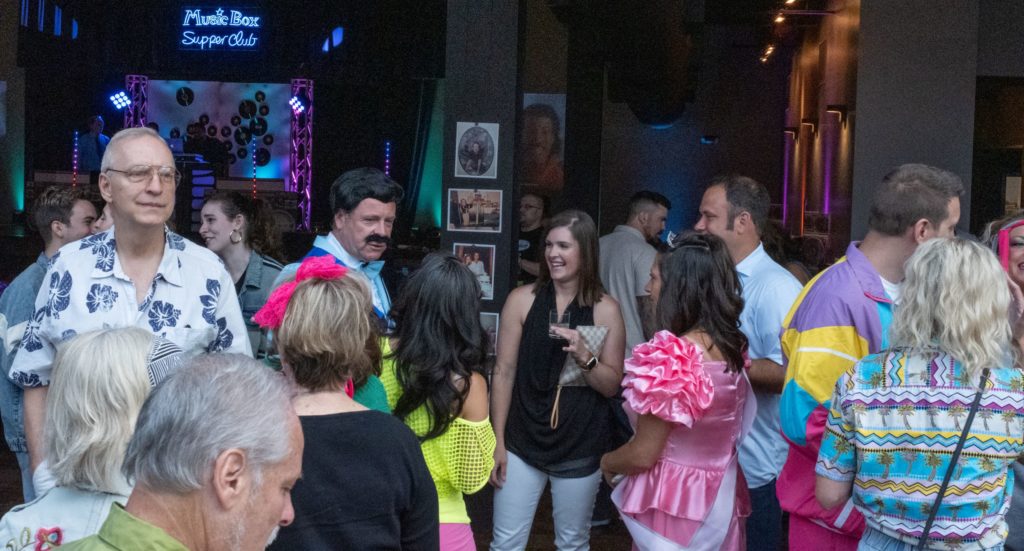 Chief Operations Officer Trisha Rutherford and Director of Operations Elizabeth McKeegan were the driving forces behind making this event happen. "There were a lot of little details: getting the décor to look right, getting the food picked out, making sure that the vibe was going to be fun and exciting for people, especially those coming in from out of town," said Liz. Skylight's longtime partner in events, Penthouse Event CLE ran by Ursula Allison and Julio Molina, assisted throughout the planning and preparation process. "We wanted to give everyone a chance to connect after having to make the transitions with everything throughout COVID. People miss each other. We're humans, and humans crave interaction! We were away from each other for so long, it was a way to feed off of each other's energy," said Trisha.
After Skylight's 2020 awards banquet was moved to a virtual event earlier this year in January, our team across the state had been itching to get back together in person, relax, and enjoy each other's company.
The fun began with '80s themed invites that were sent out weeks in advance to all Skylight personnel. Then, finally, the day arrived! On Friday, July 23 at 6:30 p.m. the first of 130 guests arrived at the Music Box Supper Club in the Flats of Cleveland, OH. Immediately they were greeted with crazy '80s decorations: Rubik's cubes of all sizes, boom boxes set up across the room, a photo booth, an '80s themed candy bar, blacklight reactive balloons, and so much more!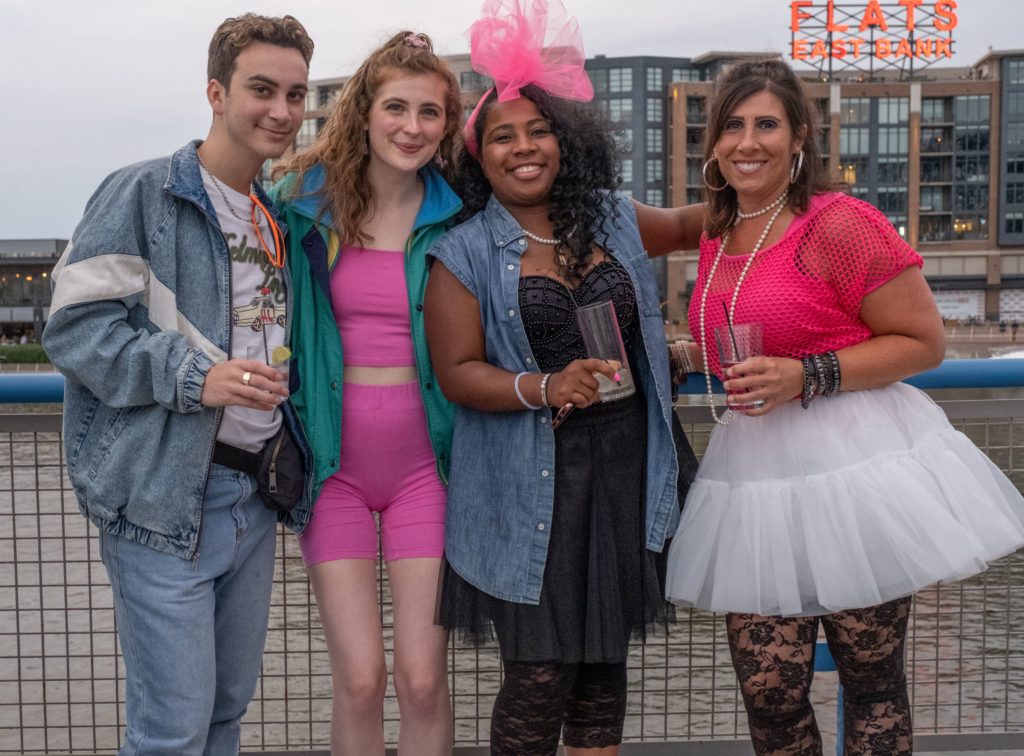 There were iconic throwback photos from the '80s of familiar faces from the offices hung up, and killer music blasting – 80's music, of course. The dance floor was in full swing, and attendees were encouraged to try signature cocktails served at the open bar and spend time outside on the patio set up with cornhole, giant Jenga, and giant connect four.
Top-notch hors d'oeuvres, desserts, and entrees such as mini beef wellingtons, bacon-wrapped dates, and mac and cheese balls were served buffet style and by the trays of waitstaff to guests who were looking for a snack, and a Jack Frost donut wall accompanied by coffee stood towards the back of the room for anyone looking to wind down towards the end of the night.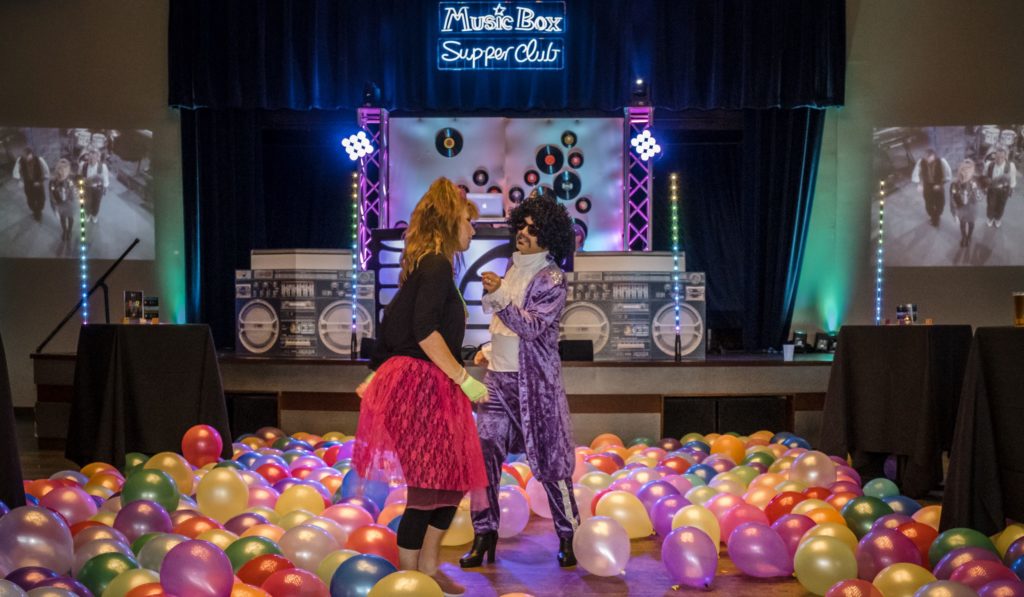 Guests were encouraged to show up in their best '80s attire, with a costume contest taking place at the end of the night. "My favorite memory is probably just seeing how everyone got so into their costumes. Paul and Amie looked amazing, Dan Ryder, Chris Heerdegen… there were so many amazing costumes!" said Liz McKeegan. Tutus, bright makeup, wigs, bold patterns, leg warmers, and A LOT of denim were seen on those who showed up in style. Skylight Financial Planner Dan Ryder ended up taking home the $100 prize, wearing a Prince costume worthy of first place! "I had a moment, I sat back around 8 or 9 o'clock, and I looked around and my heart was so warm because there were only a handful of people that didn't dress up. The laughter, the amount of participation we had, and people just coming in and truly having a good time, was huge," Trisha reminisced.
After a fun night of dancing, drinks, games, and catching up, we are so grateful to have had an opportunity like this to get together and share in good memories that will last a lifetime.
Check out a full photo album of the event here!
CRN202408-661482